Pool Companies Need a Solar Company
WHY POOL SERVICE COMPANIES NEED A SOLAR COMPANY IN THEIR HIP POCKET
Hundreds of thousands of pool owners have invested in solar pool heating systems and solar electric systems and this trend will continue into the future. What does this mean to the swimming pool industry?
1. There will be a growing base of customers who need service on their solar energy systems. Suntrek services every make and model of solar pool panel, solar control systems, and solar power systems on the market. You have one company to call for any customer service needs.
2. If a customer is going to invest in a solar energy system, you might as well benefit from this sale versus not being part of the decision process. By working with Suntrek on customer referrals, you can profit by earning a referral fee of $300 for solar pool systems, $300 for solar hot water, and $500 for solar electric. If a customer purchases all 3 (Power of 3), this is $1100 of profit for you.
3. Last but not least, the solar industry is out there in force and there are very aggressive sales and marketing tactics from direct mail, canvassing, radio, TV, newspaper advertising, etc. Most of these companies do not have a relationship to the swimming pool industry and could care less about who the pool service company is.  There is no worse surprise than making your way into  the back yard and seeing new solar systems and new pool equipment that has been replaced by the solar company!
Suntrek makes a promise to all our referring partners that we will never compete with you in your line of business. In other words, we will not sell your customer pool equipment, pool remodels, or a new pool. This business is all yours. We are your solar partner for service and new solar sales.
Solar pool heating products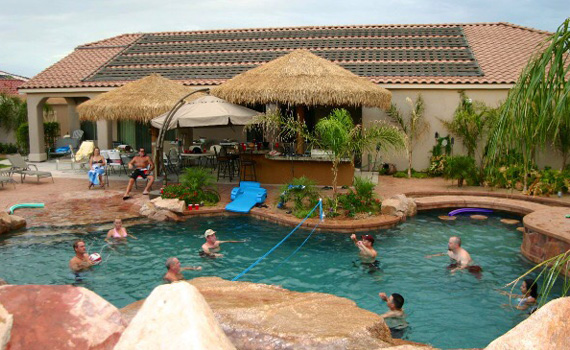 What are my choices?
Sometimes solar companies can make comparing products complicated.  But since one of our main objectives at Suntrek Solar is to make sure our customers understand their choices, we will make this simple:
Here are our top three choices for what are known as solar thermal collectors:
Polymers
Polymers are the first choice for solar pool heating and have been for decades.  These products are comprised of plastics and elastomer compounds.  What makes them most appealing is that they have UV inhibitor materials in these compounds to withstand intense solar energy radiation for well over a decade.  These materials are also impervious to pool chemicals.  So, a long-lasting solar pool collector is ultimately what you will invest in when you select Polymers.
Evacuated Tube
These are primarily designed for solar water heating, not solar pool heating
Copper
Like Evacuated Tube collectors, these are primarily designed for solar water heating, not solar pool heating.
When you are making your decision about what company you want to hire for your solar pool heating system, we submit this for your consideration:
Suntrek Industries is one of the leading solar pool manufacturers in the industry.  According to the California Solar Initiative (CSI) website, Suntreksolar is currently the Number 1 Solar Energy company for commercial solar pool heating in the State of California.
So regardless of whether you are looking for a quality commercial or residential solar pool system, here are some reasons Suntreksolar should be your number one choice:
1. We are both the manufacturer and the licensed contractor on solar energy installations.  That means we can handle the complete job from design to any roofing issues we encounter to make sure your system fits and functions perfectly.
2. Suntrek designs and custom builds the solar collectors to fit your roof or structure it is going on. This provides our clients with solar systems that fit best, work best, and perform best. Suntrek is one of the highest rate solar collectors in the world.
3.  We are vertically integrated which means no franchises. Our clients work directly with us. Our friendly competitors sell their product through distributors who then sell their products to dealers.
4. All of Suntrek's customers come by way of referral. Suntrek does not solicit business with direct mail,  canvassing, telemarketing, radio or TV advertising. This provides our clients with a lot of confidence and comfort.
The Comfort of Going Totally Solar
How to Go Solar:  You Have Options
Nothing could make an energy-conscious homeowner, HOA, or business owner more satisfied than going "totally solar".  In any setting, Suntrek Solar has a solution to collect free solar energy while minimizing your utility bills.  We call this solution the "Power of 3."
Power 1: Solar Power.
Suntreksolar will install efficient solar panels to power electrical systems for any structure or purpose, including swimming pool equipment.  Free energy from the sun will spin your electric meter backwards.  In addition, a solar system will add to your property's value without increasing your taxes.
Power 2: Solar Pool Heating.
Use Suntreksolar's patented solar technology to keep your swimming     pool warm and your spa hot, while your gas heaters stay off.  In multi-family developments like HOAs, solar pool heating systems are ideal for community pools.  What a great way to save money while staying warm and comfortable at the same time!
Power 3: Solar Water Heating.
Completing the "Power of 3" is using solar energy to provide an unlimited supply of hot water for showers or baths and washing clothes and dishes. Think how nice it will be, never running out of hot water and not paying those sky-high gas and electric bills.
Financial Benefits
In a typical residential installation, a "Power of 3," system will pay for itself in  5 – 8 years.  In multi-family developments like HOAs and apartments — or in commercial settings for the hospitality industry, government, schools, industrial & retail applications, even carport structures — the ROI on these projects is often less than 5 years and often 2-3 years.
In those situations, even if the budget for a solar system swells to a point where it is a challenge, financing programs can make your solar investment create a positive cash flow from day one.
So, whether you are a homeowner or business owner, what a great feeling you will have knowing you can use a solar energy system from Suntreksolar to power every aspect of your home or business.  You will be using free, clean energy that will make relying on a power utility simply a backup plan.