Solar Pool Heating, Solar Electricity, and Solar Hot Water systems for Las Vegas Nevada are now becoming a standard in the Las Vegas area.  Suntrek Solar has installed over 10,000 Las Vegas swimming pool solar heating systems. The solar panels are manufactured by Suntrek Industries, Inc and Suntrek is the only manufacturer in the solar panel business that also installs the systems we manufacture.
Suntrek provides service for all Las Vegas solar pool heating, Las Vegas solar panel systems, Solar Power Las Vegas systems, Solar Hot Water Las Vegas Systems. All solar energy systems require maintenance. Count on Suntrek to provide service for any pool solar energy system, PV Solar Power system, and Solar Energy for Hot Water systems.
Las Vegas Solar Pool Heater Installations
Suntrek has been installing and servicing solar heating, pool solar panels, solar energy, and all solar power systems in Las Vegas for over 28 years. Suntrek prides itself in manufacturing the highest quality and highest performing solar pool panels and is the leading solar energy contractor and solar pool contractor in Las Vegas. No other solar energy contractor has installed more solar pool heating systems or services more solar panel systems in Las Vegas, Henderson, and Boulder City.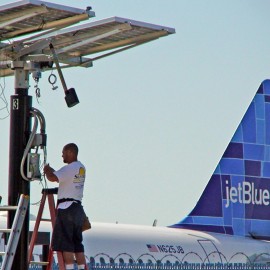 Solar Pool collectors will efficiently heat swimming pools in the greater Las Vegas area for 7-9 months of the year. The solar pool panels should be winterized during the winter months and be regularly serviced to last beyond their warranty which can be greater than 10 years. Solar panel service is a simple procedure, but requires a solar pool professional to carefully examine and maintain your solar heating panels. Solar Power systems that power your solar pool system, your solar home system, and your solar water system, also require simple maintenance plans. Solar Las Vegas customers appreciate Suntrek Solar's expertise and longevity of being the industry solar power leaders.
Solar for pools always makes sense. Unheated pools are not comfortable. Solar heated pools provide decades of comfortable warm pool temperatures for family fun, entertainment, exercise, health, and enjoyment of all sorts. Solar power for your home also means solar power for your pool equipment. When you have solar panels for pools and and solar energy for your home, you are solar pool heating and powering your home and your pool equipment with the sun. Solar panels simply make sense when living in Las Vegas.
When designing a solar panel system, we first need to determine if your home or business is feasible for solar energy systems. This can often start with a quick feasibility study using Google Earth. If we can determine that your home or business have suitable space for solar panels to solar power your home, solar pool heating, and solar hot water, we then set up an appointment to evaluate things more closely on site. Solar systems typically take 1-3 days to install.