First Hand Advice on Cleaning PV Panels
Owning a PV system that powers your home and pool brings a certain magic to one's home and lifestyle. Clean, free energy, delivered by the sun, powering lights, AC, appliances, pool equipment, and more.
Everyone is different when it comes to keeping things clean. For example, my car rarely gets washed and it drives find, but it looks like hell. I have no problem with this. When it rains, my car looks its best. When it gets really bad, I break down and have it cleaned.
Just because I treat my car this way, it does not mean, this is the best approach with my PV system. Here are some facts:
A clean PV system, will out perform a dirty one. Some say as much as 10%. So, dirt could be costing you money.

Rain does a great job of cleaning. Months without rain, debris will build up. Dirt, grime, bird poop, pollen, and even moss if you pay no attention to your collectors over time.

If you have a one story home and your PV system is in clear view, you will know when your system needs some love. It will not look very good and its performance will be hampered. A one story roof is much easier to work on than a two story roof.
How to clean your system:
Its best to have two people to clean the system. One person will have a hose to rinse the collectors and the second person will have a telescopic pole with a swivel on the end that has a firm and flat mop head on it and a soft pad.

One person rinses while the other person mops.

Before you get off the roof, let the collectors dry to make sure you have not missed any spots.
Be Safe:
Have a certified ladder that is positioned at a safe angle and is secured at the bottom and at the top.

Walk carefully on your roof and never take your eyes off of where you are stepping next. Never walk backwards. Follow all OSHA regulations when working on a roof.
Call Suntrek if you would like us to clean your system for you.
Solar Power Systems Certifications

Solar Energy panels for solar pool collectors, solar hot water systems, and Solar Electricity/PV modules, all must have testing and certifications required to meet local building codes and also meet industry standards.
Suntrek Industries solar pool panels have been tested continually over the past 3 decades by the Florida Solar Energy Center (FSCC), the Solar Research Certification Corporation, and the National Safety Foundation (NSF-50).
Suntrek Solar meets all Building Code and Environmental Health requirements for residential, commercial, and government solar pool heating systems.
NSF-50 Certification testing puts the Suntrek solar panel through rigorous pressure testing. The other tests that are done which are very important to the health and safety of our clients, is our product chemistry and compound components are tested for toxic elements that could cause harm. NSF-50 certification requirements are the highest standards for product safety for solar pool systems which makes Suntrek a safe product in any swimming pool environment.
SRCC certification test's for product performance in a variety of climate conditions. Suntrek received one of the highest BTU ratings in the world during the time when solar is needed the most. Any product can heat in the middle of summer, the question is "how well does the solar pool panel heat during cooler temperatures and in seasons when the sun is low in the sky such as early Spring and late Fall. Suntrek's SRCC rating for energy performance is highest among competing solar panels when the weather is marginal or poor. This is what make's Suntrek solar panels the best choice for performance.
Pomona College named one of Top 50 Green Colleges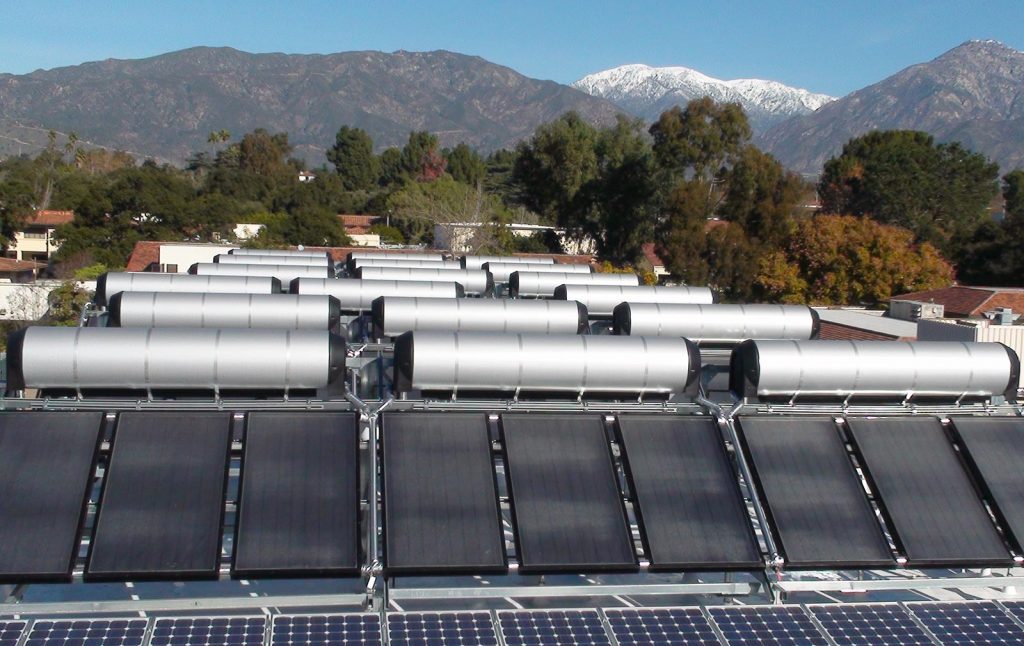 Pomona College Named One of the Nation's "Top 50 Green Colleges" by The Princeton Review.
At No. 15 on the list, Pomona is one of four Southern California institutions in the top 50, with the others being UC Santa Barbara (No. 3), UC Irvine (No. 16) and Cal Poly Pomona (No. 30). These and other institutions are highlighted in The Princeton Review Guide to 353 Green Colleges.
The Princeton Review chose the schools for this sixth annual edition of its "green guide" based on data from the company's 2014 survey of hundreds of four-year colleges concerning the schools' commitments to the environment and sustainability. For the Top 50, the review used data from its institutional survey and its surveys of students at the 353 colleges in the book to tally the ranking list.
Located in Claremont, Calif., Pomona College is widely regarded as one of the nation's premier liberal arts institutions. The College has pledged to reach carbon neutrality by 2030, and campus energy use was reduced 7.8 percent in 2013-14. The College also has continued its major investments in green building construction, which will have positive effects on future resource use.
Suntrek designed and installed a large scale solar water heating system and solar electric system for the school.  This will not only reduce gas and electric bills for the school, but also reduce the carbon footprint of the college by relying on renewable solar energy.