Suntrek Industries Opens New California Operations Center
For nearly thirty years, Suntrek Industries, Inc., has provided its customers with innovative solar energy solutions, including solar swimming pool heaters and energy collection systems. In an effort to better serve customers in fast-growing regions of California, the company announced that it had purchased a property in Antioch, which will be Suntrek's Northern California operations and distribution center. Employees currently working in the company's Martinez facility will relocate to the new facility in May, 2018. The Antioch center will service Northern and Central California communities, which are experiencing some of the largest growth in solar energy markets in the country. "We are excited to be able to move to this new location," says a spokesperson for the company, which was established in 1991. "It will help our team serve key markets and will reduce commuting times for many of our valued employees." To learn more about the company's range of solar energy services, visit http://www.suntreksolar.com/service/.
Suntrek analyzed its customer bases carefully before purchasing the new property. Prior to the purchase, the company looked at potential locations in Livermore, Concord, Danville, and Martinez. After assessing market conditions and explosive growth in demand in the East Bay area, the Antioch location was the logical choice. The new operations and distribution center is conveniently located off Highway 4 in Antioch. The building is approximately 9000 square feet and will provide office and warehouse space for the Northern and Central California operations team. The region is known for fast growth, with Antioch, Pittsburg, and Brentwood communities demanding solar hot water systems, photovoltaic panels, and solar pool heating. Thanks to its central location, the facility will be able to better serve customers in the greater San Francisco metro area, the Central Valley, and communities throughout Northern and Central regions of the state.
Suntrek Industries, Inc. has been in operation for 28 years. In that time, the company has developed a wide range of innovative solar energy solutions for both residential and commercial applications. Its first products were solar swimming pool heating systems, and quickly branched out into other areas like solar energy collection panels and hot water systems. The company's manufacturing capability is backed by a team of developers that has advanced the industry tremendously since its first days in operation. Suntrek is a one-stop resource for solar needs, and has worked with thousands of customers throughout the United States. For more information on the company and its products and services, visit http://www.suntreksolar.com/.
Suntrek Industries Introduces New Solar Panel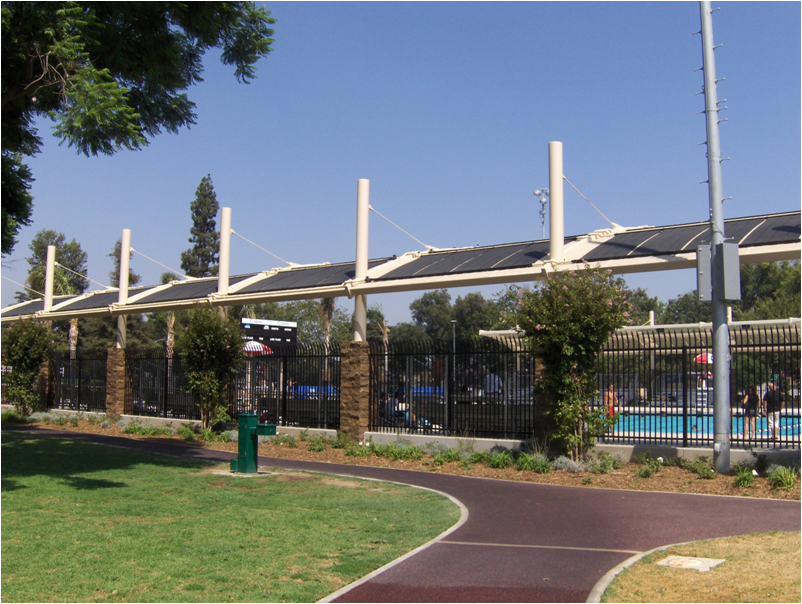 Known throughout its history for cutting-edge custom solar panels, solar energy solutions manufacturer Suntrek Industries, Inc. has recently announced a new line of standardized panels for residential and commercial applications. The new ST line of solar panels bring together the California-based company's 25 years of experience, producing solar panels that lead the industry in efficiency. Founded in 1991, the company got its start in designing and manufacturing solar heating systems for swimming pools, then quickly expanded its products to include solar hot water heaters and photovoltaic panels. "Our company has manufactured and installed over 27,000 custom solar solutions across the country," says Roy Heine, founder and President of the firm. "The ST solar panel line is the culmination of our experience and innovation in the solar energy marketplace." To learn more about the company's extensive line of products, visit http://suntreksolar.com/solarpoolheaters/las_vegas_solar_pool_heater.html.
Developed as a lower-cost alternative to custom solar solutions, the Suntrek ST line will be available in three standardized sizes: 4'x8', 4'x10', and 4'x12'. In the new line, "ST" stands for "Separated Tube", the company's patented method of providing incredible efficiency. The new panels are made of a polypropylene plastic, giving them a perfect balance of light weight and structural rigidity. The standardized solar panels are also less expensive to manufacture, making them more cost-effective as a solar energy solution for homeowners. No aspect of the new panels was overlooked during their development – the company even engineered mounting systems that require less roof penetration than competing products on the market. The secure mounting system and the light weight of the panels helps to ensure that they will resist hurricane-force winds when installed on roofs. "We believe our Suntrek ST line represents a simpler, more effective approach of designing and installing solar pool panel systems," says Mr. Heine. All of the company's solar panel products, from custom-fabricated solutions to the new ST line, are proudly manufactured in the United States.
Prior to the development of the ST line, Suntrek Industries, Inc. has focused on custom solar heating and solar panel products. Each system was carefully designed and engineered in-house to fit specific roof applications. By engineering and manufacturing the custom solar panels, the company is able to wring maximum efficiency from their products by using available mounting space to its fullest potential. "Our solar pool heating systems are a blend of art and science," adds Mr. Heine. "We are able to develop custom solutions on roofs where no other solar panel system would fit." Adding standardized panels to the company's product lineup has helped Suntrek expand its dealer base as well, and gives homeowners lower cost alternatives to custom solar panels. For more information on the company and its extensive line of solar energy solutions, visit https://www.suntreksolar.com/ or call (800) 2 WARM IT.
About:
For over 25 years, Suntrek Industries, Inc. has been an industry leader in the development and manufacture of solar heating systems and photovoltaic power solutions. Established in 1991, the Irvine, California-based company has worked with residential and commercial clients across the country. The company's solar swimming pool heating systems are known for their innovation and efficiency. Suntrek blends technical expertise with industry leadership, continuing to develop solar systems that save energy costs.
For More Information:
Suntrek Industries, Inc.
5 Holland, Building 215
Irvine, California 92618
United States
(949) 348-9276
Suntrek Industries on Solar Energy in Pool Construction
As the economy continues to heat up in the United States, pool builders across the country are following suit by incorporating solar pool heating and solar power solutions to new pool construction. After the recession of 2008, the pool construction industry has rebounded strongly, starting swimming pool projects at an unprecedented pace. With solar energy and heating part of the equation in new pool construction, the industry has helped homeowners save millions of dollars in energy costs. Suntrek Industries, Inc., a leading provider of solar pool heaters and solar energy collection systems, knows that solar power is the way forward for the pool builders' market. "Solar energy systems represent a sustainable, cost-effective way of heating swimming pools," says Roy Heine, President and founder of the California-based manufacturing firm. "These solar systems lower energy costs while helping homeowners enjoy their pools year-round." To learn more about the company, which has been in business since 1991, visit http://www.suntreksolar.com/about-us/meet-the-team/.
Previously considered a luxury item, home swimming pools have become commonplace in many communities, thanks to the strong U.S. economy. Prices for new pool construction range from $25,000 to $100,000 or more, and were typically equipped with gas-powered heating systems. Pool builders that use solar pool heating systems provide a unique solution to the costs associated with gas heaters. Pool heating bills from gas systems can be hundreds of dollars per month, while the costs associated with solar energy and solar pool heating systems are a fraction of that. For homeowners with gas-powered pool heating, the high expenses of operating the pool year-round become difficult, forcing them to use the pool only in the warm summer months. Solar systems, on the other hand, extend the swimming pool season dramatically, offering year-round enjoyment and comfort.
Solar pool heaters typically cost $4500-6000 for installation, and on average pay for themselves in reduced heating expenses within two swimming seasons. Once the initial cost is recouped through reduced heating expenses, the systems operate virtually without monthly expenses. These energy-saving systems are designed to last 15-20 years, and can save over $100,000 in heating costs over their expected lifespan. This represents a significant savings, which has encouraged pool builders to specify solar systems for many new pool construction projects. Photovoltaic electrical systems, often referred to as "PV systems", can save even more money. These solar energy systems are used to power the swimming pool's pumps and filtration systems, eliminating the electricity expenses associated with operating the pool. Some PV systems are even powerful enough to provide electricity to the home itself by harnessing the sun's rays. Suntrek Industries, Inc. has been a leader in providing solar energy solutions to homeowners throughout the United States. Their expertise in solar pool heating systems and PV systems is unrivaled in the industry. For more information on the company and their extensive line of solar power/heating solutions, visit https://www.suntreksolar.com/ or call (800) 2 WARM IT.
About:
Established in Irvine, California, Suntrek Industries, Inc. has been a leader in solar energy and solar heating systems for residential and commercial customers since 1991. The company's extensive line of hot water and swimming pool heating systems are known for industry-leading efficiency. Photovoltaic power solutions are also manufactured by the firm. The company operates three regional offices, and has worked with nearly 30,000 customers across the country. 25+ years of leadership has given Suntrek the experience and the technical know-how to develop energy-saving power and heating systems for any application.
For More Information:
Suntrek Industries, Inc.
5 Holland, Building 215
Irvine, California 92618
United States
(949) 348-9276