Solar pool heating products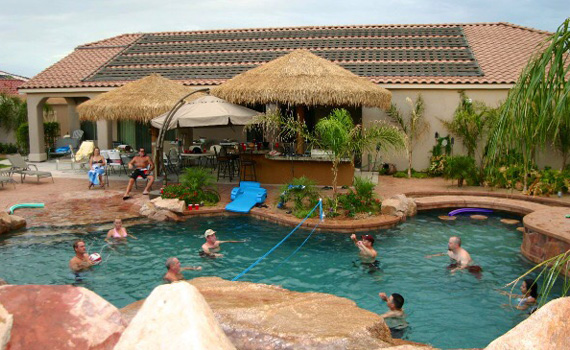 What are my choices?
Sometimes solar companies can make comparing products complicated.  But since one of our main objectives at Suntrek Solar is to make sure our customers understand their choices, we will make this simple:
Here are our top three choices for what are known as solar thermal collectors:
Polymers
Polymers are the first choice for solar pool heating and have been for decades.  These products are comprised of plastics and elastomer compounds.  What makes them most appealing is that they have UV inhibitor materials in these compounds to withstand intense solar energy radiation for well over a decade.  These materials are also impervious to pool chemicals.  So, a long-lasting solar pool collector is ultimately what you will invest in when you select Polymers.
Evacuated Tube
These are primarily designed for solar water heating, not solar pool heating
Copper
Like Evacuated Tube collectors, these are primarily designed for solar water heating, not solar pool heating.
When you are making your decision about what company you want to hire for your solar pool heating system, we submit this for your consideration:
Suntrek Industries is one of the leading solar pool manufacturers in the industry.  According to the California Solar Initiative (CSI) website, Suntreksolar is currently the Number 1 Solar Energy company for commercial solar pool heating in the State of California.
So regardless of whether you are looking for a quality commercial or residential solar pool system, here are some reasons Suntreksolar should be your number one choice:
1. We are both the manufacturer and the licensed contractor on solar energy installations.  That means we can handle the complete job from design to any roofing issues we encounter to make sure your system fits and functions perfectly.
2. Suntrek designs and custom builds the solar collectors to fit your roof or structure it is going on. This provides our clients with solar systems that fit best, work best, and perform best. Suntrek is one of the highest rate solar collectors in the world.
3.  We are vertically integrated which means no franchises. Our clients work directly with us. Our friendly competitors sell their product through distributors who then sell their products to dealers.
4. All of Suntrek's customers come by way of referral. Suntrek does not solicit business with direct mail,  canvassing, telemarketing, radio or TV advertising. This provides our clients with a lot of confidence and comfort.
Solar Electric Contractors Rely on Suntrek

Solar Electric Contractors rely on Suntrek for solar pool and hot water
You're a PV designer and you have a new client to propose solar energy too. You just got off the phone with your new prospect after asking for 12 months of electric bills. You open up google, load up the address, zoom in, and you immediately see a solar pool heating system on the rear south facing roof. What do you do?
Suntrek Industries is the leading solar pool company in the industry with over 27,000 solar pool panel clients in California and Nevada. We are experts in all solar thermal products for solar pool heating and solar hot water systems.
Again, what do you do? Contact your Suntrek area representative. Suntrek will evaluate the age, condition, and type of system with you and your client so everyone can make informed decisions. The options are to modify the system and re-locate it to another roof, remove the system and haul it away, or consider a new solar pool and spa system that is custom designed to fit.
Suntrek is your partner to help you sell more PV systems when you have clients with Solar Pool and Solar hot water heating needs. Many clients have a swimming pool and want to purchase solar electricity /PV and a solar pool system. What is very important to your client, is they would rather work with one solar panel company. Suntrek makes that possible by being your partner, your subcontractor, for all of your solar thermal needs.
Suntrek's business model is to never compete with our partners and to provide the expertise to make sure that your projects are executed professionally and seamlessly. This includes collaboration on all solar energy systems removal and roof repairs. Coordination with roof allocation with PV given the most efficient space because solar pool heating can function with lower performing roof orientation. Once your PV system design is complete, simply send us the plans, and we will provide completed plans that include solar pool and/or solar hot water systems. Our crews can work side by side or in concert. We will brand our crew and our vehicles as your company (shirts and magnetic signs supplied by you).
Let's team up today.
Solar Heating your Pool and Spa with the Sun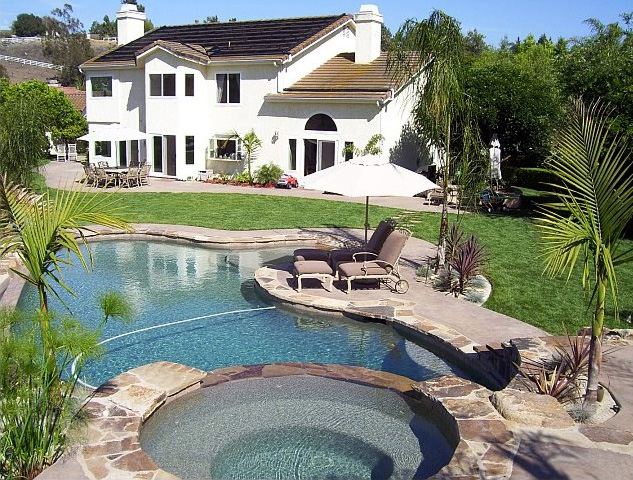 Solar Heating your Pool and Spa with the Sun
Imagine owning a brand new BMW that has almost every feature you could ask for, with one exception… You can only use your car 3 months out of the year and the remaining 9 months, you have to store your BMW in the garage, maintain it, keep current with your finance payments, tax's, registration fees, etc. A beautiful car that hardly gets used.
Welcome to pool ownership if you do not have a solar pool and spa system. Most pool's and spa's come with a gas heater. Unfortunately, it does not take more than one gas bill, to find out that spending thousands of dollars every year to keep a pool warm and comfortable, is simply not in the cards. Imagine heating your pool and spa to your most comfortable temperatures in April and then seeing a gas bill for $795 bucks. Ouch.
Time to get a BMW, that you can drive all season long. With a Suntrek Solar Pool and Spa heating system, we can double and triple the length of swim season so that both the pool and spa are warm and toasty when ever you want to jump in. Imagine coming home from work and your pool is 86 degrees and your spa is a toasty 102 degrees, solar only. No gas bill. This is what you get when you have a pool with a solar power system. The solar panels will heat the pool and spa automatically everyday to the desired temperatures with no gas bill.