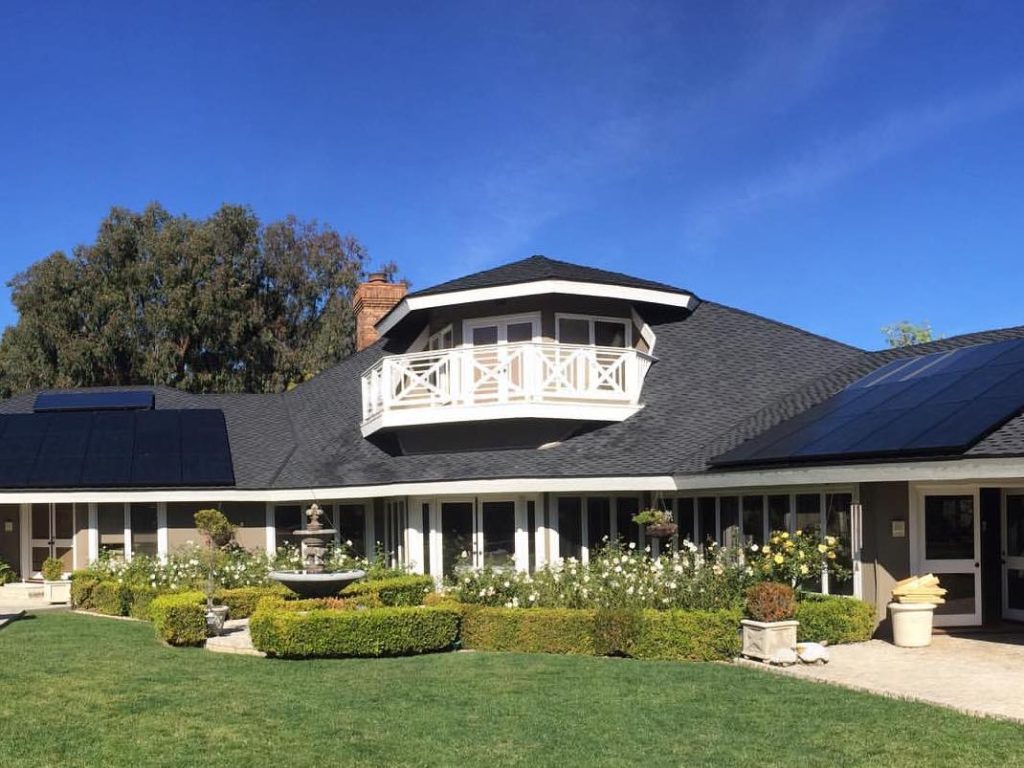 When shopping for a new home, always keep in mind one simple question… What will it take to install solar now or in the future?
Not every home is feasible for solar. The roof lines might be too cut up with not enough clean space to work with. There could be shading issues or the only good roof may be on the front of your new home and aesthetics can be a serious concern. So, find a home that has great orientation to the sun and enough space to put in a square or rectangular shaped solar system vs one that looks more like a puzzle with panels scattered all over the roof.
Consider the age and condition of the roof. If you have to replace the roof in a few years, factor this in before you invest in your solar system of systems. Also keep in mind that if you have a clay tile roof, this can be problematic and will most likely require a new composition roof under the solar system.
If your new home comes with a pool, you certainly want to consider heating your pool with solar in addition to powering your home with solar. At the same time, you might as well heat your water in your home with solar instead of using gas. Now you have 3 unique solar systems all designed to power your home, power your pool equipment, heat your pool water, and heat your domestic water.
It only takes a few minutes to consult with a solar energy professional to determine how solar can fit your new solar home.
Solar Electric Contractors Rely on Suntrek

Solar Electric Contractors rely on Suntrek for solar pool and hot water
You're a PV designer and you have a new client to propose solar energy too. You just got off the phone with your new prospect after asking for 12 months of electric bills. You open up google, load up the address, zoom in, and you immediately see a solar pool heating system on the rear south facing roof. What do you do?
Suntrek Industries is the leading solar pool company in the industry with over 27,000 solar pool panel clients in California and Nevada. We are experts in all solar thermal products for solar pool heating and solar hot water systems.
Again, what do you do? Contact your Suntrek area representative. Suntrek will evaluate the age, condition, and type of system with you and your client so everyone can make informed decisions. The options are to modify the system and re-locate it to another roof, remove the system and haul it away, or consider a new solar pool and spa system that is custom designed to fit.
Suntrek is your partner to help you sell more PV systems when you have clients with Solar Pool and Solar hot water heating needs. Many clients have a swimming pool and want to purchase solar electricity /PV and a solar pool system. What is very important to your client, is they would rather work with one solar panel company. Suntrek makes that possible by being your partner, your subcontractor, for all of your solar thermal needs.
Suntrek's business model is to never compete with our partners and to provide the expertise to make sure that your projects are executed professionally and seamlessly. This includes collaboration on all solar energy systems removal and roof repairs. Coordination with roof allocation with PV given the most efficient space because solar pool heating can function with lower performing roof orientation. Once your PV system design is complete, simply send us the plans, and we will provide completed plans that include solar pool and/or solar hot water systems. Our crews can work side by side or in concert. We will brand our crew and our vehicles as your company (shirts and magnetic signs supplied by you).
Let's team up today.
Solar Power Systems Certifications

Solar Energy panels for solar pool collectors, solar hot water systems, and Solar Electricity/PV modules, all must have testing and certifications required to meet local building codes and also meet industry standards.
Suntrek Industries solar pool panels have been tested continually over the past 3 decades by the Florida Solar Energy Center (FSCC), the Solar Research Certification Corporation, and the National Safety Foundation (NSF-50).
Suntrek Solar meets all Building Code and Environmental Health requirements for residential, commercial, and government solar pool heating systems.
NSF-50 Certification testing puts the Suntrek solar panel through rigorous pressure testing. The other tests that are done which are very important to the health and safety of our clients, is our product chemistry and compound components are tested for toxic elements that could cause harm. NSF-50 certification requirements are the highest standards for product safety for solar pool systems which makes Suntrek a safe product in any swimming pool environment.
SRCC certification test's for product performance in a variety of climate conditions. Suntrek received one of the highest BTU ratings in the world during the time when solar is needed the most. Any product can heat in the middle of summer, the question is "how well does the solar pool panel heat during cooler temperatures and in seasons when the sun is low in the sky such as early Spring and late Fall. Suntrek's SRCC rating for energy performance is highest among competing solar panels when the weather is marginal or poor. This is what make's Suntrek solar panels the best choice for performance.