California Solar Requirements for New Construction
As of Jan 1st 2020, all low-rise residential buildings have been mandated to incorporate a solar photovoltaic (PV) system to meet the minimum requirements of building energy efficiency standards. While this may seem like just another hoop to jump through in the construction process, it is also a huge value add to any new construction home project. Now that solar is a part of every new home construction project, Suntrek is here to make sure that the solar system and home are designed with each other in mind. A solar system can complement a home just like a beautiful entryway or stunning backyard if you treat it with the same amount of importance!
Some home builders will simply "check the box". This will mean installing a solar system that meets the minimum requirements. Suntrek will design, engineer, and provide a proposal for providing a turnkey solar solution to meet those minimum requirements. Often, an energy storage (battery) system can be implemented into the design. This addition will reduce the required quantity of solar panels installed on the roof by 25%. Typically, the minimum requirement results in a system that is not appropriately sized for the home. For this reason, Suntrek will also provide a second option that is better engineered for the square footage of the home and the kind of electrical load we expect to see for that home. Since every client's needs are unique, another option is to have Suntrek work directly with the homeowner to ensure their preferences and goals are met.
When installing solar on a new construction home, there are several benefits. Solar energy systems come with a federal tax credit. Today, that tax credit is 26% of the system cost. There are many costs involved in the construction process that are related to the solar systems installation (roofing, structural, electrical, architectural). All the solar related expenses should be allocated to the cost of the solar system. As the price of the solar installation increases, so does the tax credit. The purchaser of the home will be able to capitalize on a 26% federal tax credit on the cost of the solar energy system. When the home is purchased, the new homeowner will start off with a big tax credit and will have a new solar system that was financed through the mortgage of the house. With interest rates at an all-time low, this can be one of the most attractive financing options available.
For home builders committed to energy-efficient design and sustainability, Suntrek provides the "Power of Three". A 360-degree solar solution that incorporates solar heating for the swimming pool and solar heating for domestic hot water. Incorporating all relevant kinds of solar technology will provide a new homeowner with a sustainable way of living that allows for a luxurious lifestyle, without the overhead costs.
Contact Suntrek today to discuss all of the items mentioned above.
• Solar Electricity
• Energy Storage Systems
• Solar Pool heating
• Solar hot water heating
Ethan Heine
Suntrek Industries, Inc.
5 Holland, Building 215
Irvine, CA 92618-2577
Office: 949 – 348 – 9276
Mobile: 949 – 456 – 5914
Email: eheine@suntreksolar.com
Visit us online at: www.suntreksolar.com
Roof Integrity and Solar​, How to Combine Both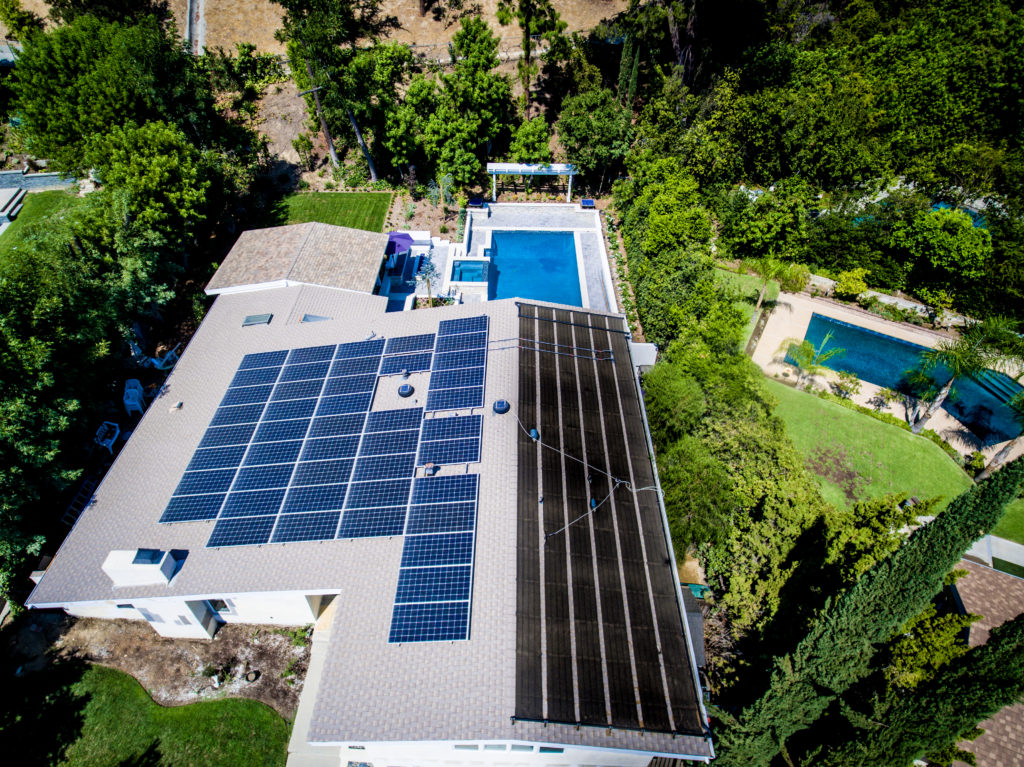 Solar Pool Heating, Solar Electricity, and solar hot water systems, all have attachment systems to the roof that must be engineered properly. Every system has a unique attachment method and every roof requires special precaution and hardware to hit a home run with a solid design and a water tight roof.
New construction vs retrofit of solar power systems to a roof are two very different scenarios. When a home or building is being constructed, a lot more thought can go into:
Location of vents (keep away from solar foot print)
Design a roof that has an excellent orientation to the sun and plenty of space for a clean square or rectangular solar power system.
All conduits should be roughed in and hidden from view.
Roof attachments for the solar pool heating system, solar hot water system, or solar electric system should be designed and installed after the roof is sheeted. Once sheeted, roofer can flash in all roof penetrations for the solar energy systems so that there are no penetrations that have not been flashed in by the roofing contractor.
Last but not least, if the home is going to have a tile roof, we strongly suggest installing a less expensive composition roof in the footprint of the solar energy systems. Once the composition roof is completed, the solar energy contractor can then walk on the composition roof, install all the solar power systems and then allow the roofer to tile in around the system to give it an integrated look.
When retrofitting a new solar energy system to an existing home, keep the following in mind:
What is the age and condition of the roof. Will the roof outlast the solar system. If not, consider a new roof for the home before a solar power system is installed. Even consider a new roof just in the footprint of the solar system.
Determine best method of attachment. This is a broad statement and there are many approach's to a successful project. Pick the best one. It may or may not include having a roofing contractor involved.
Last but not least, never leave a roof in jeopardy. If you see issues with a roof, bring it up immediately to your client so that this can be addressed to eliminate leaks in the future.
Suntrek Industries Celebrates 27 Years in Business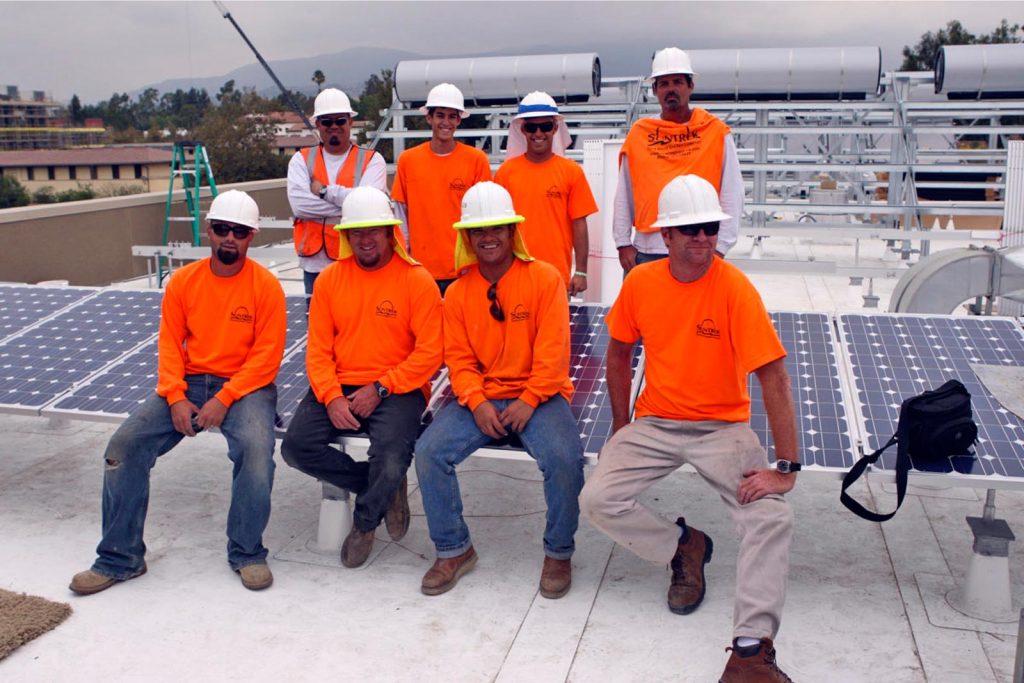 Suntrek Industries, Inc., an industry-leading manufacturer of solar pool heating and solar energy equipment, is celebrating its 27th year in business in 2018. Starting from a single location and a patented solar swimming pool heating system, the company has grown exponential over the past three decades. Today, it boasts nearly 30,000 customers across the country who have saved money on heating costs with the company's energy-efficient solutions. The company continues to introduce innovative solar energy systems, including solar pool heaters, solar energy collection panels, and even solar root heating and nutrient delivery systems for the agricultural industry. "We started with a unique business model and a simple motto: 'Do what we say we are going to do'," says Roy Heine, President and founder of the solar energy manufacturing firm. "That commitment to manufacturing and customer service excellence has positioned us well for continued growth in the coming decades." To learn more about the company's solar pool heating systems and its expertise in solar energy collection, visit https://www.suntreksolar.com/solar-pool-systems/why-go-solar/ or call the firm at (800) 2 WARM IT.
Suntrek Industries, Inc., was established in 1991 in Irvine, California. The first product it developed was a high-performance solar panel system for heating swimming pool water. Innovation continued at the company, which saw the development of a range of energy-efficient solar water heating and solar electricity products in the years since its founding. In 2006, the company diversified its product line extensively, rolling out new technologies and new energy-efficiency with each new product. Suntrek solar power systems can be found in residential, commercial, and government buildings throughout the western states.
Today, the company corporate headquarters is still in Irvine and also operates two regional offices, one in Las Vegas, Nevada, and one in Martinez, California. All three corporate offices provide the products and services the company is known for; their "Power of Three" services of solar pool heating, solar power systems, and solar hot water systems are trademarked. The company has worked with thousands of individual and business clients, including large government entities like Yosemite National Park, the San Diego Unified School District, the California Department of Transportation (Caltrans), and the Long Beach Airport. Corporate clients include the McDonalds Corporation, the LDS Church in Salt Lake City, Utah, and the Irvine Company. "Our success over the past three decades is a combination of our hard work and our incredible customer base," adds a spokesperson for the company. "We look forward to the next 30 years as we provide energy-saving solutions to residential and commercial clients." For more information on the company and its services, visit https://www.suntreksolar.com/ or call Suntrek at (800) 2 WARM IT.
About:
Headquartered in Irvine, California, Suntrek Industries, Inc. has been a leader in solar energy and solar heating systems for residential and commercial customers. The company's extensive line of hot water and pool heating systems and photovoltaic panel arrays are known for industry-leading efficiency. The company operates three regional offices, and has worked with nearly 30,000 customers across the country. Suntrek has manufactured and installed solar systems since 1991, giving them the experience and the technical know-how to develop energy-saving power and heating systems for any application.
For More Information:
Suntrek Industries, Inc.
5 Holland, Building 215
Irvine, California 92618
United States
(949) 348-9276
info@suntreksolar.com