Suntrek Industries Stays in the Family
Ethan Heine has purchased 100% of the company stock of Suntrek Industries, Inc. With offices in Southern and Northern California and Las Vegas Nevada, Suntrek has its sights on the next 30 years. Suntrek specializes in solar energy systems for the home, pool, business, and government projects. 
Heritage, History and a Family Legacy in the Solar Industry
In the 1930's many men and women fled Nazi occupied countries to Ellis Island. The Heine family was one of many Jewish families that were seeking refuge. The family members that escaped laid the foundation for the future generations to come. Arriving in the United States with almost no belongings and a small amount of cash that had been stitched into their garments, the Heine Family started over. The 1st generation of Heine's to come to the United States were entrepreneurs. Their hard-work, determination and perseverance set the standard for all generations to follow.
Among the next generation of Heine Family members was Roy. Roy grew up in the small town of Nanuet, New York and eventually graduated from James Madison University in Virginia. Upon Graduation, his father promised him a one-way ticket anywhere in the world he wanted to other than "home". Roy knew he had an Uncle Ernie across the country living in Napa, CA that would put a roof over his head, so he flew to CA.
Roy was a young man, hungry to make a good living for himself and Ernie was a seasoned electrical engineer. Together, they were the beginning of a new Venture in the Solar Energy Business for the Heine Family. 
In 1991, Roy Heine founded Suntrek Industries, Inc – A manufacturer and licensed contractor of solar energy systems. With a 3-year-old baby girl and a son on the way, Roy and his wife, Holly, downsized their home and "ate peanut butter and Jelly" while Roy launched the business. Roy's daughter, Logan, would become the face of the business. Her face was the trademark of the Suntrek Brand. She was the cute little girl on the cover of the brochure for the next 3 decades. Months after Suntrek was founded, Holly gave birth to their son, Ethan.
Neither Logan nor Ethan was raised to take part in the business. It was never discussed. Ethan attended the University of Colorado at Boulder and studied Business and Kinesiology. When Ethan was home from college, he worked in the field as an installer/helper to make a couple's bucks. Upon graduating in 2013 and entering the workforce, Ethan began his career in the health and wellness space. After 1 year of dissatisfaction in his professional career, Ethan decided to come to Suntrek. He spent a few months in the field learning the trade and business from the ground up. Before long, he stepped into an outside sales role and became the top producer in the company.
After a few years with the company, Ethan and Roy began discussions about the next chapter for Suntrek and their family. As of July 1st, and after 7 years of learning the industry and business, Ethan Heine is the new visionary for the next 3 decades at Suntrek Industries, Inc. As the President/CEO of Suntrek, he has the honor and privilege to carry on the Heine Family Legacy in business. A foundation which began by his hard-working Jewish family members that came in the generations before him.
After over 30 years of business, Roy has brought Suntrek Industries to the forefront of the solar energy industry. As a manufacturer, the Suntrek Solar Pool Heating System has been installed all over the world. As a contractor, Suntrek has amassed over 30,000 customers across Western United States. Some of their marquee clients include Yosemite National Park, LDS Church (Salt Lake City, UT), San Diego Unified School District, Pomona College and Long Beach Airport.
When asked about his accomplishments, Roy will tell you, "the most rewarding part of what we've been able to accomplish at Suntrek is the amazing people we have been able to employ. My first employee, Luis Manzo , is still with us. As is Aaron Hill (25) years), Scotty Ford (23 years), Neri Escobar (15 years), Jose Cesena (15 years), Joe Campbell (14 years), Tabby Givens (15 years), Amanda Lehrer (10 years) among many others.
Ethan's plan for the business is growth. "We have generated tremendous momentum over the past 2 years and are looking to build off that. Our team is the best in the business, and I am fortunate to be able to lead a group of outstanding individuals. Being in the solar energy business has been SO fulfilling. We provide home and business owners with the ability to live the life they want without having to worry about the overhead cost that normally comes with it. Whether it's jumping into your warm, solar heated swimming pool. Or stepping into a nice, air-conditioned home with your electric vehicle charging in the garage. Using the sun's free energy just makes sense!"
Suntrek is your local and family-owned solar energy contractor. 30 years are in the books and the next 30 years are looking promising; thanks to the hard work and sacrifice of those that have come before and by embracing the simple moral of "doing what you say you will do".
California Solar Requirements for New Construction
As of Jan 1st 2020, all low-rise residential buildings have been mandated to incorporate a solar photovoltaic (PV) system to meet the minimum requirements of building energy efficiency standards. While this may seem like just another hoop to jump through in the construction process, it is also a huge value add to any new construction home project. Now that solar is a part of every new home construction project, Suntrek is here to make sure that the solar system and home are designed with each other in mind. A solar system can complement a home just like a beautiful entryway or stunning backyard if you treat it with the same amount of importance!
Some home builders will simply "check the box". This will mean installing a solar system that meets the minimum requirements. Suntrek will design, engineer, and provide a proposal for providing a turnkey solar solution to meet those minimum requirements. Often, an energy storage (battery) system can be implemented into the design. This addition will reduce the required quantity of solar panels installed on the roof by 25%. Typically, the minimum requirement results in a system that is not appropriately sized for the home. For this reason, Suntrek will also provide a second option that is better engineered for the square footage of the home and the kind of electrical load we expect to see for that home. Since every client's needs are unique, another option is to have Suntrek work directly with the homeowner to ensure their preferences and goals are met.
When installing solar on a new construction home, there are several benefits. Solar energy systems come with a federal tax credit. Today, that tax credit is 26% of the system cost. There are many costs involved in the construction process that are related to the solar systems installation (roofing, structural, electrical, architectural). All the solar related expenses should be allocated to the cost of the solar system. As the price of the solar installation increases, so does the tax credit. The purchaser of the home will be able to capitalize on a 26% federal tax credit on the cost of the solar energy system. When the home is purchased, the new homeowner will start off with a big tax credit and will have a new solar system that was financed through the mortgage of the house. With interest rates at an all-time low, this can be one of the most attractive financing options available.
For home builders committed to energy-efficient design and sustainability, Suntrek provides the "Power of Three". A 360-degree solar solution that incorporates solar heating for the swimming pool and solar heating for domestic hot water. Incorporating all relevant kinds of solar technology will provide a new homeowner with a sustainable way of living that allows for a luxurious lifestyle, without the overhead costs.
Contact Suntrek today to discuss all of the items mentioned above.
• Solar Electricity
• Energy Storage Systems
• Solar Pool heating
• Solar hot water heating
Ethan Heine
Suntrek Industries, Inc.
5 Holland, Building 215
Irvine, CA 92618-2577
Office: 949 – 348 – 9276
Mobile: 949 – 456 – 5914
Email: eheine@suntreksolar.com
Visit us online at: www.suntreksolar.com
Roof Integrity and Solar​, How to Combine Both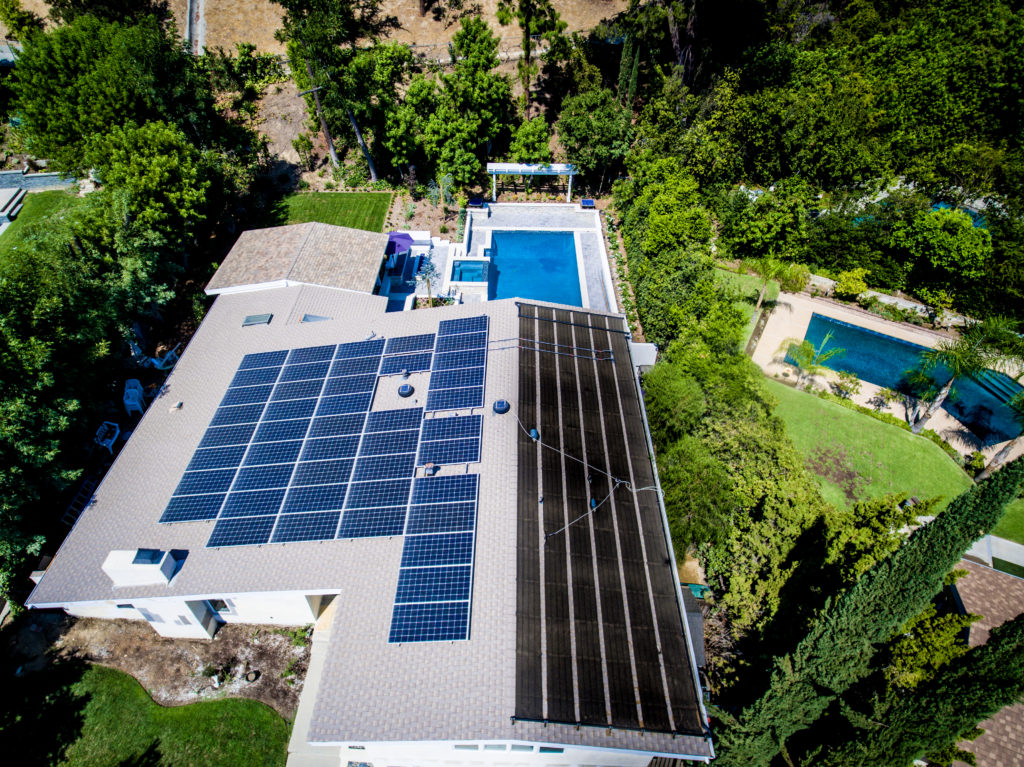 Solar Pool Heating, Solar Electricity, and solar hot water systems, all have attachment systems to the roof that must be engineered properly. Every system has a unique attachment method and every roof requires special precaution and hardware to hit a home run with a solid design and a water tight roof.
New construction vs retrofit of solar power systems to a roof are two very different scenarios. When a home or building is being constructed, a lot more thought can go into:
Location of vents (keep away from solar foot print)
Design a roof that has an excellent orientation to the sun and plenty of space for a clean square or rectangular solar power system.
All conduits should be roughed in and hidden from view.
Roof attachments for the solar pool heating system, solar hot water system, or solar electric system should be designed and installed after the roof is sheeted. Once sheeted, roofer can flash in all roof penetrations for the solar energy systems so that there are no penetrations that have not been flashed in by the roofing contractor.
Last but not least, if the home is going to have a tile roof, we strongly suggest installing a less expensive composition roof in the footprint of the solar energy systems. Once the composition roof is completed, the solar energy contractor can then walk on the composition roof, install all the solar power systems and then allow the roofer to tile in around the system to give it an integrated look.
When retrofitting a new solar energy system to an existing home, keep the following in mind:
What is the age and condition of the roof. Will the roof outlast the solar system. If not, consider a new roof for the home before a solar power system is installed. Even consider a new roof just in the footprint of the solar system.
Determine best method of attachment. This is a broad statement and there are many approach's to a successful project. Pick the best one. It may or may not include having a roofing contractor involved.
Last but not least, never leave a roof in jeopardy. If you see issues with a roof, bring it up immediately to your client so that this can be addressed to eliminate leaks in the future.