When is it time to replace your existing solar energy system?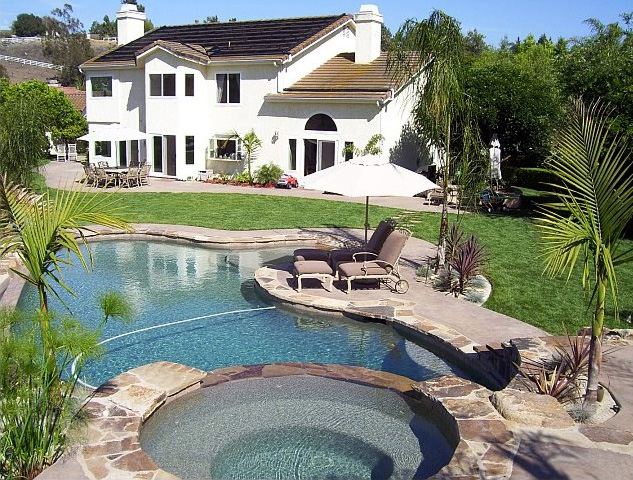 Solar pool systems, Solar electric systems, and Solar hot water heating systems, all can last over 2 decades with proper care and maintenance. Knowing this, when is the best time to consider replacing your system or simply upgrading it?
1. The first determining factor is often the current condition of your roof. If you roof needs to be replaced, serious consideration should be made to remove your existing systems and upgrade them with new technology. If your solar system has little to no warranty left, well, their is a good case for replacement.
2. When you purchased your home, you can inherit a solar energy system which was purchased by the previous home owner. So often, when a property is sold, the condition of an existing solar energy system if often over looked in the sales process. Hire a solar expert to provide the expertise in evaluating the system's condition. If the system is not up to par, this is a great time to negotiate with the seller and upgrade the system as part of the sale of the property.
3. Service should not be an annual expense for any system. If you are absorbing a regular expense for service that is above and beyond normal, it should be evident that the time is growing close if not immediate, toward system replacement. The key here is to determine the cause of system degradation. Often its a maintenance issue or a system design problem.
Utilize Suntrek's services to determine your best course of action with any existing solar power system, solar panels, solar hot water, or solar pool heating system.
The Comfort of Going Totally Solar

How to Go Solar:  You Have Options
Nothing could make an energy-conscious homeowner, HOA, or business owner more satisfied than going "totally solar".  In any setting, Suntrek Solar has a solution to collect free solar energy while minimizing your utility bills.  We call this solution the "Power of 3."
Power 1: Solar Power.
Suntreksolar will install efficient solar panels to power electrical systems for any structure or purpose, including swimming pool equipment.  Free energy from the sun will spin your electric meter backwards.  In addition, a solar system will add to your property's value without increasing your taxes.
Power 2: Solar Pool Heating.
Use Suntreksolar's patented solar technology to keep your swimming     pool warm and your spa hot, while your gas heaters stay off.  In multi-family developments like HOAs, solar pool heating systems are ideal for community pools.  What a great way to save money while staying warm and comfortable at the same time!
Power 3: Solar Water Heating.
Completing the "Power of 3" is using solar energy to provide an unlimited supply of hot water for showers or baths and washing clothes and dishes. Think how nice it will be, never running out of hot water and not paying those sky-high gas and electric bills.
Financial Benefits
In a typical residential installation, a "Power of 3," system will pay for itself in  5 – 8 years.  In multi-family developments like HOAs and apartments — or in commercial settings for the hospitality industry, government, schools, industrial & retail applications, even carport structures — the ROI on these projects is often less than 5 years and often 2-3 years.
In those situations, even if the budget for a solar system swells to a point where it is a challenge, financing programs can make your solar investment create a positive cash flow from day one.
So, whether you are a homeowner or business owner, what a great feeling you will have knowing you can use a solar energy system from Suntreksolar to power every aspect of your home or business.  You will be using free, clean energy that will make relying on a power utility simply a backup plan.
Long Beach Airport Solar Project by Suntrek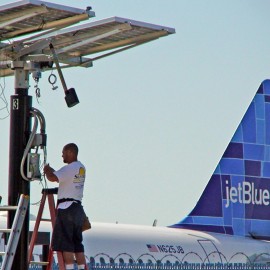 In 2008, the Long Beach Airport began generating clean and renewable energy by installing six "solar trees." Each tree is made up of a steel pole topped with a photovoltaic (PV) array approximately 9 feet by 9 feet in dimension. The arrays are bolted to a dual-axis tracker that will guide the array to maximize solar gain by shifting tilt and orientation every hour to track the sun throughout the day. The panels of the solar tree are bi-facial which means that they collect light from above and also reflected light from below, thereby maximizing solar ray exposure.
In addition to generating clean energy, the Airport's "solar forest" will effectively offset nearly a half million pounds of carbon dioxide emissions, the equivalent of planting three acres of trees, over its system life.