Solar Heating your Pool and Spa with the Sun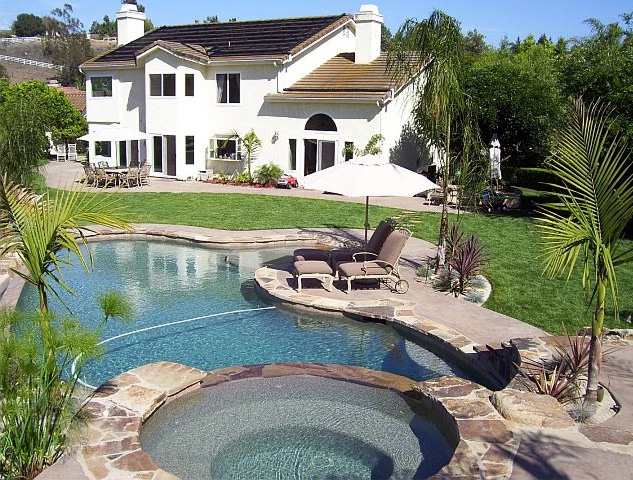 Solar Heating your Pool and Spa with the Sun
Imagine owning a brand new BMW that has almost every feature you could ask for, with one exception… You can only use your car 3 months out of the year and the remaining 9 months, you have to store your BMW in the garage, maintain it, keep current with your finance payments, tax's, registration fees, etc. A beautiful car that hardly gets used.
Welcome to pool ownership if you do not have a solar pool and spa system. Most pool's and spa's come with a gas heater. Unfortunately, it does not take more than one gas bill, to find out that spending thousands of dollars every year to keep a pool warm and comfortable, is simply not in the cards. Imagine heating your pool and spa to your most comfortable temperatures in April and then seeing a gas bill for $795 bucks. Ouch.
Time to get a BMW, that you can drive all season long. With a Suntrek Solar Pool and Spa heating system, we can double and triple the length of swim season so that both the pool and spa are warm and toasty when ever you want to jump in. Imagine coming home from work and your pool is 86 degrees and your spa is a toasty 102 degrees, solar only. No gas bill. This is what you get when you have a pool with a solar power system. The solar panels will heat the pool and spa automatically everyday to the desired temperatures with no gas bill.
Solar Power Systems Certifications

Solar Energy panels for solar pool collectors, solar hot water systems, and Solar Electricity/PV modules, all must have testing and certifications required to meet local building codes and also meet industry standards.
Suntrek Industries solar pool panels have been tested continually over the past 3 decades by the Florida Solar Energy Center (FSCC), the Solar Research Certification Corporation, and the National Safety Foundation (NSF-50).
Suntrek Solar meets all Building Code and Environmental Health requirements for residential, commercial, and government solar pool heating systems.
NSF-50 Certification testing puts the Suntrek solar panel through rigorous pressure testing. The other tests that are done which are very important to the health and safety of our clients, is our product chemistry and compound components are tested for toxic elements that could cause harm. NSF-50 certification requirements are the highest standards for product safety for solar pool systems which makes Suntrek a safe product in any swimming pool environment.
SRCC certification test's for product performance in a variety of climate conditions. Suntrek received one of the highest BTU ratings in the world during the time when solar is needed the most. Any product can heat in the middle of summer, the question is "how well does the solar pool panel heat during cooler temperatures and in seasons when the sun is low in the sky such as early Spring and late Fall. Suntrek's SRCC rating for energy performance is highest among competing solar panels when the weather is marginal or poor. This is what make's Suntrek solar panels the best choice for performance.
The CA Solar Initiative's #1 Commercial Solar Pool Contractor
SUNTREK INDUSTRIES, INC, LEADS THE STATE OF CALIFORNIA IN COMMERCIAL SOLAR POOL SYSTEM INSTALLATIONS.
In 2015, 2016, and currently in 2017, Suntrek Industries as led the State of California Solar Energy Contractors, going on 3 consecutive years, for number of commercial solar pool energy system's installed throughout the State of California.
Under the California Solar Initiative solar thermal rebate program, administered by the utility companies, Suntrek has led all solar energy contractors in total number of projects completed. "This is a major accomplishment for our company" explains Suntrek VP, Ethan Heine. "We compete with thousands of solar energy companies of who are funded with venture capital or are publicly traded. Suntrek is a family owned company, with over 27,000 customers, and all of our business, without exception, is referred by our customer base".
Suntrek offer's solar power solutions that include Solar Pool Heating, Solar Hot Water, and Solar Electric Systems for Commercial, Government, and Residential clients. Suntrek has 3 Regional offices including; Irvine in Southern California, Martinez in Northern California, and Las Vegas Nevada. Explore Suntrek at http://www.suntreksolar.com or call today at 800-292-7648.